What technology means to the Millennials
Looking at the timeline of technology inventions and social media development, you will know how technology grew alongside with the Millennial generation. The world's first generation commercial cell phone, weighing almost two pounds, was a big birthday gift for a high school teenager on his/her16th birthday; then the iPhone emerged as they celebrated his/her 25th. MySpace was born in 2003, and Facebook, created by then-Harvard student and Millennial Mark Zuckerberg and originally designed for only his Ivy league peers, was launched in 2004. At that time, the first Millennial class prepared to graduate from college.
Technology = Life
Technology is essentially backed into the Millennials' DNAs, as this generation is the first to come of age with cable TV, the Internet and cell phones. According to a survey conducted by Nielson, Millennials ranked "Technology Use" as the most important feature that makes their generation unique. In contract, Baby Boomers showed few interests in technology. They ranked "Work Ethic" as the most defining characteristics of their generation. Comparing to other generations, Millennials have the most positive view of how technology is good for their lives. Based on Nielson's study, more than 74% of participants feel that new technology makes lives easier. While their textbooks discuss about if the Internet and modern technology isolate people from each other, 54% of participants believe that new technology keeps them to be closer to their friends and family. Given Millennials' comfort with technology, they are inseparable from their technology devices. Smartphones have become an icon of the Millennial lifestyle. According to Nielsen, 83% of participants sleep with their smartphones, and their cell phones are never turned off unless they are out of battery.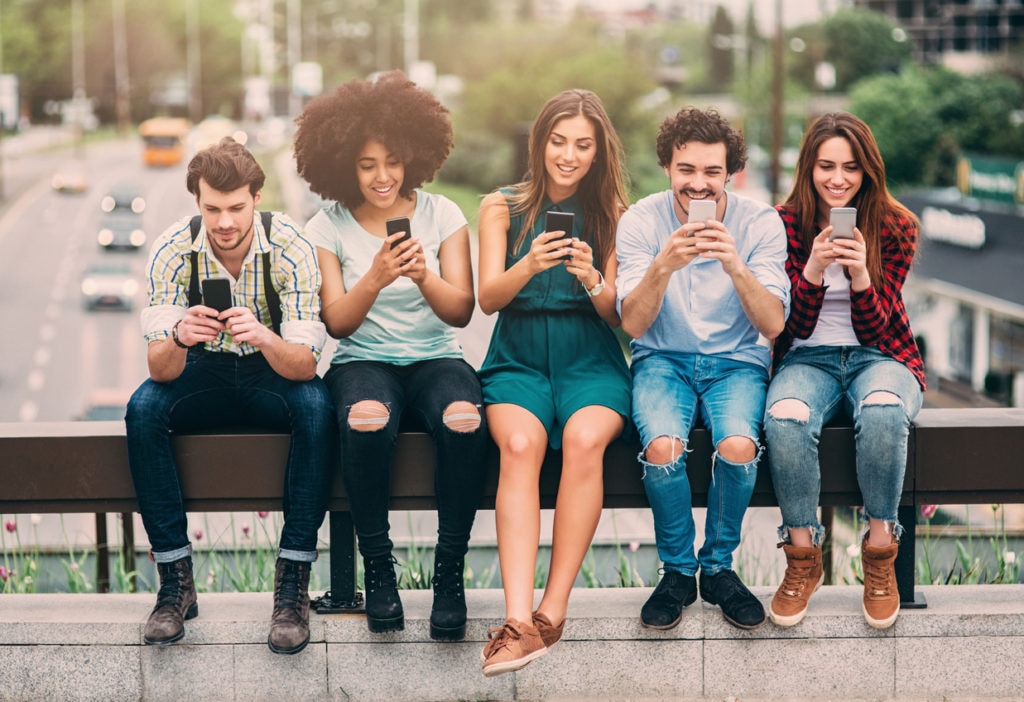 Technology = Social
Networks Another icon of the Millennial lifestyle is social media. Technology makes the Millennials heavy Internet users. And being hardwired with their smartphones enables Millennials to stay social 24/7. They spend at least one hour everyday checking in social media sites. Nielson called Millennials the founders of the social media movement. They are also referred to as "digital natives", while other generations may feel like "digital immigrants" when it comes to technology. As digital natives, Millennials stay digital and social in almost every occasion. They use their devices everywhere – classrooms, offices, bathroom and transportations. 32% of the generation use social media from the bathroom. For Millennials who are young professionals, 51% of them use social networking at the office during their workday. Moreover, Millennials admit to texting while driving. 64% of them said they chat with people via text message while behind the wheel. In addiction, different age group within this generation has its own preference of social device. The younger half (age 18 – 24) prefers accessing social networking sites on laptops, while the older crew (age 25 – 34) checks in more on mobile apps. Regardless of the device, 75% of this generation is active on social media sites.
Technology = Money
Technology provides Millennials various platforms to handle their finance themselves. Not only do they manage their check – books online, but also they are engaged in investment. Comparing with other generations, Millennials are more likely to purchase financial products online. Lots of them participate in online trading. Older Millennials are more likely to purchase mutual funds and insurance online, while younger ones are good at e-commerce selling. Millennials are deal savvy and price conscious. Thanks to technology, they are able to keep an eye on the latest deals and promotions. Many mobile apps used by Millennials are discount focused, such as Groupon, Gilt and Amazon.Technology saves them a large amount of money as they can always find some discounts online.
The Millennials' digital tendencies indicate that marketers should work harder on their products and brands in order to keep engage with this generation. As they are 77 million strong in the U.S, they are worth the effort.