The Sneaker Every Giants Fan Must Have
You may already be aware that Victor Cruz, wide receiver for the New York Giants, has sat out this season due to an injury. But he's been doing anything but sitting around during his time off. The New York Giant famous for his end zone celebrations has developed his own Nike Signature Sneaker.
The Nike Signature Sneaker, titled Air Cruz after the New York Giant himself, will debut this fall.
Dino Hatfield has reported that the Air Cruz will not be a "football shoe," but instead it will be a Nike Sportswear trainer without a cross-strap.
So why are so many people paying attention? News outlets have been zooming in on the Air Cruz ever since Nike sued 3 former designers for $10 million last December. The lawsuit involved documents alleging that the possible lead designer of the Air Cruz, Marc Dolce, sent himself files of an unnamed Victor Cruz project before he left for Adidas. Whether this lawsuit will have a negative effect on Nike's marketing approach is still up for debate.
So the real question everyone wants the answer to: what will the sneakers look like? Many images and rumors have been leaked and circulated around the Internet. But in August, Foot Locker Europe released an image of the shoe on their Instagram account. Nobody knows exactly how Nike reacted to Foot Locker stealing a bit of their spotlight by revealing the Air Cruz design before they did, but this is the design they released: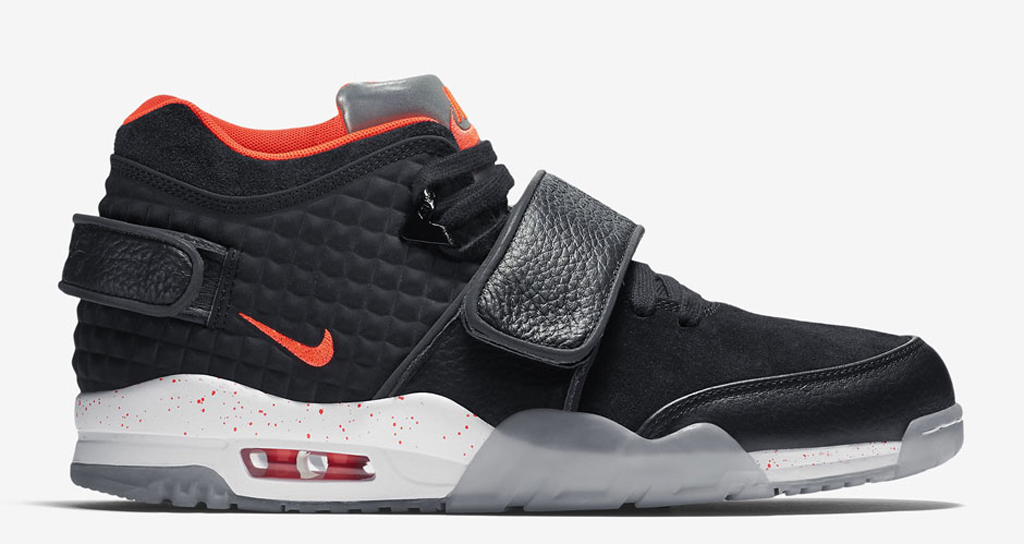 This Nike Signature Sneaker has rubber spikes on the back half of the shoe, a leather strap, and an extra heel strap. The spikes are reminiscent of the LeBron 12 NSW Lifestyle:
The rubber spikes aren't the only part of this Nike Signature Sneaker that brings another shoe design to mind: the leather strap reminds us a bit of the Nike Air Trainer 1:
Under the Velcro strap of each Air Cruz sneaker, there is an inscription reading "Dance to Greatness." The Black/Crimson pair includes the text "In Memory of Mike," a reference to Cruz's father, a former firefighter. The number "3" can also be found on the inside of the tongue, paying respect to the ladder that his father was a part of.
Cruz posted this picture on Instagram:
The caption implies that Cruz will be sending pairs of his Nike Signature Sneaker to some of his more famous friends. Reports have indicated that artists such as Fabolous, Kanye West and Swizz Beats will be receiving pairs of the Air Cruz.
Despite the Air Trainer's roots in performance and training purposes, The Nike Signature Sneaker offers a contemporary look that is clearly meant for everyday wear. As for release date, the "Red October" was set to hit stores in October (as its name would indicate), but release has been pushed back. November 20th is the latest release date for this Nike Signature Sneaker.
What do you think of Victor Cruz's latest Nike Signature Sneaker? Would you buy a celebrity endorsed pair over Nike's other new sneaker lines? Let us know in the comments.