Best Affordable Wireless Earphones for Running
Going to the gym a little bit more this year can be the New Year's Resolution for many people. Before heading to the gym, it is smart to get some new activewear and sports accessories. Bluetooth devices have become a huge gym hit in recent years due to their flexibility. However, purchasing from big brands like Bose or Beats on top of the gym membership can most likely go over the budget. Luckily, we have sorted through Amazon and found you some bestseller wireless earphones for running with reasonable prices. Save the money while keeping fit with your favorite song!
Best Wireless Earphones for Running
Mpow 059 Bluetooth Headphones Over Ear ($39.99)
This cute pink over-the-ear headphone is the perfect investment for your fitness plan. In addition to its decent sound performance, the foldable design makes it portable and space saving, and the memory-protein ear cushions are built to stay comfortable. Hesitate about pink? There are 6 other colors you can choose: red, silver, black, blue, green, and grey.
Mpow Jaws V4.1 Wireless Neckband Headset ($19.99)
The neckband can seem quite strange when you see it for the first time, but late you will learn that this special design helps to provide a comfortable fit, and it makes the button control much easier. Other than unique neckband, this headphone has a shark-like magnetic design so that the earbuds will be attached when not using for easy storage.
SoundPEATS In-Ear IPX6 Sweatproof Earphones ($27.99)
Have you ever experienced the earbuds work for everybody but you? I bet you wish you could customize it if possible. SoundPeats In-Ear earphones come in with 5 different sizes of earbuds tips for secure fit. Finally, you can relax and stop worrying about the falling off situation. Moreover, the earphones are sweat resistant.
Senso Wireless Sports Earphones ($29.97)
The truth is in-ear headphones do not work for everybody. If you are the unlucky one who can never find the perfect earbuds, this clip-around-the-ear cordless headphone will be your BFF. The clip design makes sure the headphone does not fall off easily, and the silicon materials won't put any pressure on your ears even after long use.
Mpow V4.1 Mini Bluetooth Earbud ($16.99)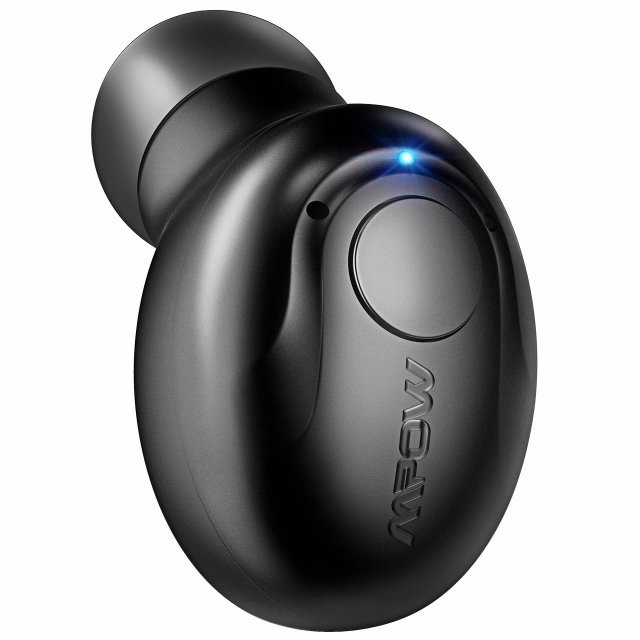 All earphones above still seem too heavy for you? Be sure to try this Mpow mini Bluetooth earbuds. Weighs only 0.1 oz (3g) and smaller than a coin. It is highly possible to forget you actually have something in your ear when wearing these minis. Don't forget to take them out after working out.